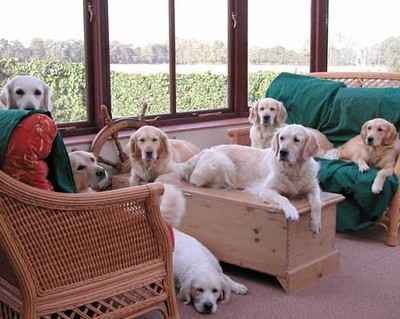 Amaranth Publishing
Board Of Directors Meeting

Meet the CEO
of Amaranth Publishing
&
The Creator
Meet The Creator
Even with the pressing duties of CEO and running Amaranth Publishing, much time is also spent on more important pursuits such as chasing balls, walking, playing, snacking or contemplating The Creator. The Creator of the Golden Retriever, was Sir Dudley Majoribanks, the first Lord Tweedmouth in Scotland.
Here is a picture of Sir Dudley, The Creator...

Sir Dudley - The Creator

The Golden Retriever originated in Scotland in the 1860s on the estate of Sir Dudley Majoribanks, the first Lord Tweedmouth of Scotland. (In case you are interested, "Tweedmouth" refers to a place in Scotland, and not a condition of Sir Dudley's mouth or speech.) The picture below shows the estate where The Creator bred the first Goldens.




Here is another picture of The Creator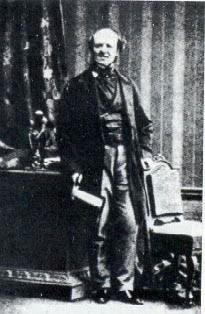 One version of the story concerning Sir Dudley's breeding of the first Goldens goes like this:

While on a visit to Brighton on the English south coast Sir Dudley was impressed by the intelligence of a troup of performing dogs and took one home to Scotland. This was a large male with a gold colored coat whom he named `Nous'. Sir Dudley mated Nous to a Tweed water Spaniel (now-extinct), named Bette who produced four puppies which bore similarities to today's Golden Retriever.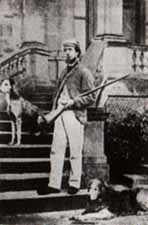 But as with most situations, there are of course,
two sides to the story.

The Russian circus dog story of origin became the accepted version of the beginnings of the breed and appeared in the Crufts catalogue until 1960. One of the greatest proponents of this theory was Colonel Le Poer Trench who had his St. Hubert's strain registered with the Kennel Club as retrievers (Russian Yellow). To the left is a painting of one of the Colonel's Retrievers. At Crufts Dog show in 1913, there were classes for Goldens and for Russian Retrievers, but only one set of C.c.'s. The best Goldens had to challenge the best Russians for the C.c.'s, and the Russians won both of them! Pictured at the right are the Colonel, his brother and some of their retrievers.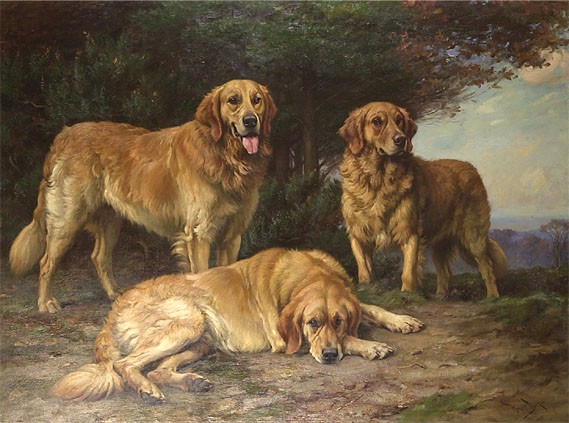 There is certainly a clear and striking resemblance between the Russian Yellow Retrievers and the modern day Goldens. The painting at the left is a 19th Century painting of Yellow Russian Retrievers by artist Wright Barker (I am not kidding, his name was "Barker" and he liked to paint dogs, barking and not barking.)
In 1960 the Crufts catalogue contained what they say are the true origins of the breed as approved by the Kennel Club. This history of the breed was supposedly discovered in Lord Tweedmouth's carefully kept private stud book and notes, first brought to light by his great-nephew, the Earl of Ilchester, in 1952. Why it took as long as 1952 to come to light, almost a century after Tweedmouth's first Golden breeding experiments, is a mystery that causes those who still believe the Russian circus dog version of the story to shake their heads with doubt.

Here is the mid 20th Century version of the story of the Golden Retriever and The Creator:

In 1868 Lord Tweedmouth mated a yellow Wavy-Coated retriever (Nous) he had bought from a cobbler in Brighton (bred by Lord Chichester) to a Tweed Water Spaniel (Belle) from Ladykirk on the Tweed. These Tweed Water-Spaniels, rare except in the Border Country, are described by authorities of the time as like a small Retriever, liver-coloured and curly-coated. Lord Tweedmouth methodically line-bred down from this mating between 1868 and 1890, using another Tweed Water-Spaniel, and outcrosses of two black Retrievers, an Irish Setter and a sandy coloured Bloodhound. (It is now known that one of the most influential Kennels in the first part of the century which lies behind all present day Golden Retrievers was founded on stock bred by Lord Tweedmouth.

Whatever the case may be, Sir Dudley Majoribanks, Lord Tweedmouth of Scotland, is The Creator. All Praise Sir Dudley!
Jesse
The CEO Of Amaranth Publishing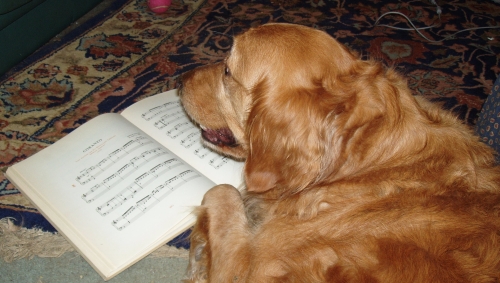 Our CEO Jesse reviewing a new Amaranth Publishing music score



Send our CEO Jesse an e-mail
With the unexpected recent passing of our beloved CEO Sadie and even though we still have sadness in our hearts, we want to introduce you to Sadie's close friend and associate Jessie. Jessie will now be representing Amaranth Publishing as our new CEO. Jessie is not replacing Sadie as CEO but he is proudly carrying on her legacy. We are secure in his abilities for Sadie gave her leadership to Jessie from the very beginning and, he was a fast learner and has provided backup assistance on many occasions.

Jessie did not easily come to us, it was a coincidental meeting you might say, even sort of interesting if you believe in fate. You see after some time after the passing of our founding CEO Ginger, we realized that the time had come and that our second CEO Sadie would benefit from having a new friend. We studied many options and wondered what would be best for Sadie. Finally we determined that bringing some new young blood into our lives would be positivee for everyone. But, we did set some guidelines in our search. First of all we wanted our new associate to come from a secure happy home, not a puppy-mill. Next we were thinking that a girl would bond better and follow Sadie's lead easier than a young, spunky, stick chewing, boy would. We also wanted her to be well adjusted and, to have lived with her family, which included children, for at least eight weeks. Still, we wanted her to be from a nearby location and, we wanted to name her Maggie.

Well! Good Golly Miss Maggie! Almost immediately after that decision, if there wasn't a sign announcing "Goldens" posted in the same park where Sadie often went for walks. So of course we quickly wrote down the phone number and we called it as soon as possible. It took a few times calling to reach the number. Then we found out that in our haste, we had written down the wrong number. So back to the park we went. This time we did it right. But believe it or not on the way back from the park we saw that another sign had been posted on the very corner of our own street. That said it all, we knew that these signs were calling us and this had to be it so, we quickly called the phone number and off we went. Sadie was of course included in this journey for she had to be a part of this major decision. She was so excited about the possibilities that she ran and jumped into the car and sat alert in her eagerness to inspect this potential new member.

When we got there we realized that an important criteria was easily met when we saw how happy and secure all of the littermates were. Other wishes concerning our new member were also coming true, there were children in the family, they were local for they lived right by Sadie's favorite park and the mates had just celebrated their eight weeks birthday. Now the decision, there was one girl and the rest were boys. But that decision was quickly settled when coming from behind, with his feet-a- flying and ears-a-flopping, one of the males pounced on Sadie's tail and hung on. Sadie didn't even act surprised and she didn't seem to mind this little spitfire's gumption at all, in fact Sadie just pranced around with a big grin, all while he was hanging onto her tail. What can you say? Sadie knew what was best, it was going to be a boy. So this just leaves the name Maggie that we were so hung up on and how did it fit into the picture? Well, as it turned out, Jessie's mother was named Maggie. So, while we were looking for a Golden to name Maggie, we did not realize that it would be a golden already named Maggie that was looking to gift us with Jessie.

But, Jessie was a surprise to some and wasn't announced to everyone until he arrived on the premises in a chauffeured automobile. He was so proud to become a part of our networking family that he was setting up in the backseat like he was some sort of a little prince and as we

knew he would, Jessie has been a blessing to us all. He has grown from a rough and tumble little sport to a strong, intelligent, and as you see handsome young man. Under Sadie's guidance he learned to be respectful, honest, and loyal. Jessie and Sadie were so alike in their nature that in their five years together they never even had one disagreement.


Sadie - February 1997 - March 4, 2009
The 2nd CEO of Amaranth Publishing


Ginger - The original CEO of Amaranth Publishing

Amaranth Publishing Trainees

The Classic Dog Screensaver
A Windows screensaver with many classic dog photos and paintings.

Buy for $2.00



After your Paypal or Credit Card payment is processed you will immediately receive by email the download link.


Click here to see our first
CEO Ginger
in some of America's
most famous paintings!
Click here to read about the first presidential candidate
officially drafted to run by Golden Retrievers!
Click here to read the amazing story of the
Golden Retriever Coconut Harry!
For Dog Lovers.....
Scans of many original 19th Century American articles about dogs of all kinds. With some great art and engravings. Prepared as PDF files in an an easy to print standard size format.


Typical Dogs 1

Typical Dogs 2

Toy Dogs




Dogs Described And Illustrated

The Coon Dog
Sporting Dogs

To A Dog's Memory - poem
After your credit-card or Paypal payment is processed, you will be immediately emailed the download links.

.
Contact us by e-mail if you have any questions.........
Explore
- The Amaranth Publishing web pages

including

the music of the spheres, the music of a Renaissance alchemist, music created by software and artificial intelligence, the music of the fairies, the music of the Illuminati, the world's most mysterious book, the world's oldest song, a way you can compose music like Mozart, the world's oldest love song,


and much more........
New...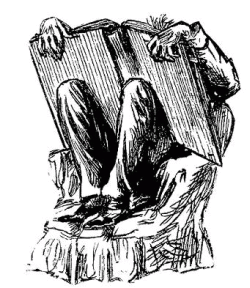 The Cider Press Unique ebook collection for historical researchers, music history researchers and for the just plain curious folks out there....


(Note - Some of the photos on this page were found on various clipart web sites, without attribution. If you know any details about any of these photos, please let us know.)

© Copyright 2017 - Amaranth Publishing - All Rights Reserved