This unique music project, that you are about to experience, involves my using a solar cell array to transform light waves to sound waves to audio.
The music you will be hearing is the improvised
results of the movement and intensity of
the light sources and color filtering.

It is important to note that these improvised pieces of music are one of a kind and can never be
duplicated exactly.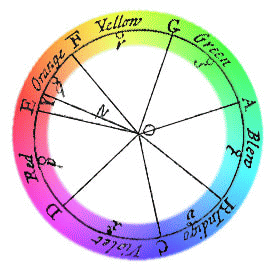 Mathematician Issac Newton's color wheel
that relates color to the notes
of a musical scale.
You can listen to MP3 partial sections of
4 pieces, and purchase the collection
of 13 complete pieces below.
MP3 sample excerpt 1

MP3 sample excerpt 2

MP3 sample excerpt 3

MP3 sample excerpt 4
You can download a zip file of the
MP3 collection of 13 pieces for $5.00
After your secure payment is processed you will immediately be sent the download link to the email you give while purchasing the collection.