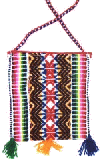 Hanacpachap Cussicuinin
Hanacpachap may well be one of the first polyphonic pieces of music composed and published in the new world. It was part of the "Ritual Formulario e Instituciones de Curas" in the Quechuan language of San Pedro de Andahuaylillas in Peru. Nothing is known of the composer of this music, but it is considered possible that it was composed by a Quechuan indian student because of the unique musical structure. It was first published in the early 1600s and was sung while the singers entered the church.

MIDI file of Hanacpachap


If any musicians out there would like to try a very reasonably priced "Shareware" music notation program that allows you to create both standard notation and/or tablature sheet music for multiple instruments, check out the "Tabledit" site. This program has the ability to import MIDI files such as the music on this page to create sheet music, for one or multiple instruments, and to generate tablature and/or notation for each instrument and then listen to or print the score. The program includes specialty notation for many instruments, including guitar, fiddle, recorder, tin whistle, piano, harmonica, and many more. You can go to our free guitar music page to see some examples of guitar scores created using "Tabledit".
---