The Guitar Arrangements of Stephen C. Foster
Stephen Collins Foster
(July 4, 1826 – January 13, 1864)
Stephen Foster has often been called "the father of American music" He was a great songwriter. He wrote more than 200 songs, including "Oh! Susanna", "Hard Times Come Again No More", "Camptown Races", "Old Folks at Home" ("Swanee River"), "My Old Kentucky Home", "Jeanie with the Light Brown Hair" (written for his wife Jane Denny McDowell), "Old Black Joe", and "Beautiful Dreamer", and many of his compositions remain popular today. He has also often been referred to as "the most famous songwriter of the nineteenth century" and may historians say he may be the most recognizable American composer in other countries.
He often sent his songs to his publishers in handwritten form and almost all of his handwritten music manuscripts are lost, but editions issued by publishers of his day feature in various archives and collections.
Foster taught himself to play the clarinet, guitar, flute, and piano. He did not have formal instruction in composition but he was helped by Henry Kleber (1816–97), a German-born music dealer in Pittsburgh.
Foster died at age 37, (another in the long list of the famous quote "the good often die young"), and was buried in the Allegheny Cemetery in Pittsburgh.
One of the best-loved of his works was "Beautiful Dreamer", published shortly after his death.
Foster published many of his songs with guitar accompaniment, arranged by himself, a supposedly very good guitar player.

We have prepared a PDF file with scans of the original published sheet music, arranged by Foster.
Stephen Foster's
Guitar Arrangements

Oh Boys Carry Me Long
Little Ella
Ellen Bayne
Eulalie
Farewell My Lilly Dear
Jeanie With The Light Brown Hair
My Old Kentucky Home, Good Night
Maggie By My Side
Massa's In De Cold Ground
Willie We Have Missed You
Old Memories
Old Dog Tray
Willie My Brave


(The guitar pictured above is said to
have belonged to Stephen Foster)


After your credit card or Paypal payment of $4.00 is processed, you will quickly be sent a download link.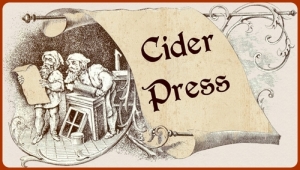 Cider Press - Early American Music

© 2018 - Amaranth Publishing
All rights reserved