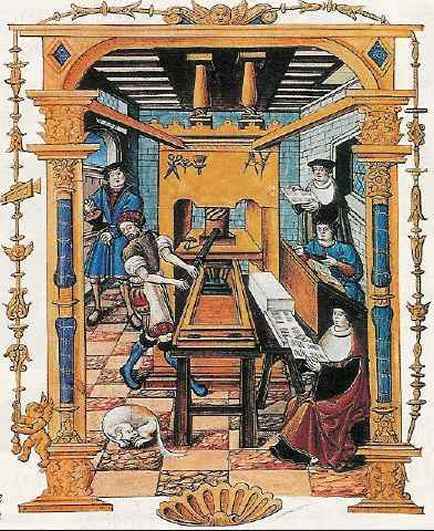 Many of the Renaissance printers who played an important role in the advance of printing were also accomplished musicians, composers and arrangers, and used the new printing process developed by Gutenberg and others to publish and distribute music. This was the first stages of music being made widely available to the public.

The spread of instrumental and vocal music during the Renaissance was in large part due to a number of enterprising music printers, many of whom were active musicians and composers and played a direct role in arranging the pieces which they published. The most prominent among them were the Italian Ottaviano Petrucci of Venice, the Parisian Pierre Attaingnant, the Flemish Teilman Susato and later the Venetian Antonio Gardano whose sons later went on to form one of most important music publishing firms of the era.

Petrucci is said to be the printer who produced the first collection of music using the new Gutenberg moveable type process. He worked with a process known as "multiple-impression printing" - one press run for the lines, another for the notes. This was able to produce excellent quality and results, but was time consuming. Attaingnant was responsible for the development and spread of "single-impression music printing" - printing music from type at one impression - staves, notes and text together rather than separately, as was previously the case. This process cut time and costs considerably, and enabled Attaingnant, and eventually all others, to produce a wide range of music. This was the beginning of modern music publishing and printing.

During the early developments of printing, a large amount of excellent music was created and printed. On this page, we will present some of this music. As both printers and musicians, this page is a special project. We hope you enjoy it.

(Note) The following MIDI files were recorded as Standard MIDI files. MIDI files will often sound different on each system, depending upon your software and sound card but this will give you an idea of the sound of this music. We created most of these files and a few were discovered in various places on the Internet without attribution. If anyone is aware of the original creator of any of these MIDI files, please let us know.
Pierre Attaignant (b. c. 1494, Douai?, France d. 1551/52, Paris) was the son-in-law and heir of the printer-engraver Philippe Pigouchet (fl. 1490-1514). Beginning with a collection of chansons dated April 4, 1527, he used movable type and a single impression, a method that was probably his invention (earlier printers printed the staff and the notes in separate impressions.)

Before 1527 Attaignant began using a newly invented moveable music type, in which a fragment of a musical staff was combined with a note on each piece of type. He used the new type in a book of chansons, Chansons Nouvelles (1528). Because Attaignant's single-impression method halved the time and labour formerly needed to print music, it was quickly adopted throughout Europe. Attaignant was the first to use the printing press to achieve mass production in music publishing. In 1537 he became music printer and bookseller to the French king Francis I. His printing represents more than 150 outstanding composers of his day and include chansons, dance collections, masses, motets, psalms, and Passions. His 111 surviving publications are rich in information about early 16th-century music.

© 1999-2000 Britannica.com and Encyclopedia Britannica, Inc.
Tourdion
Tourdion (another arrangement)
Galliarde
Dance #1 from "Magdalena"
Pavan
---
Jacques Moderne (? - ca. 1561born in Slovenia) was a music publisher in France, who was very active in Lyons starting in 1523. His press issued publications of many kinds but concentrated mostly on music starting in 1532. For years he and Pierre Attaingnant, whose first book came out in 1528, were the only music publishers active in France. Moderne concentrated on newly composed music and thus produced the first (and in many instances only) prints of the approximately 800 pieces he published. He published works not only by the local circle of composers but also by the Parisians and major figures like Gombert, Morales and other papal musicians. His largest series was Le paragon des chansons (eleven volumes, 1538-43), his most famous together with Motteti del fiori (four volumes). His publication Musique de Joye was a collection of ricercars and dance music. He also published books of motets, chansons, Masses, noëls, and instrumental music also came from his press.
---
Matheo Pagano (Matthaeus Paganus or Matio Pagan) was an important publisher in Venice. He was a skilled wood engraver as well as a publisher and printer. His dated works go back to 1538 and end in 1562, when he published, to accompany Gastaldi's map of the world, the text "La Universale descrittione del Mondo, descritta da Giacomo de' Gastaldi Piamontese. Con gratia et privilegio In Venetia, per Matthio Pagano in Frezzaria al segno della Fede. M.D. LXII."

Pagano published and printed the following "Broadside". As well as the graphics and woodcuts, there is a song in mensural notation with a 2 part lute accompaniment in tablature. The text above the lute gives instructions concerning the tuning of the lute. The text below the instrument provides details about the tablature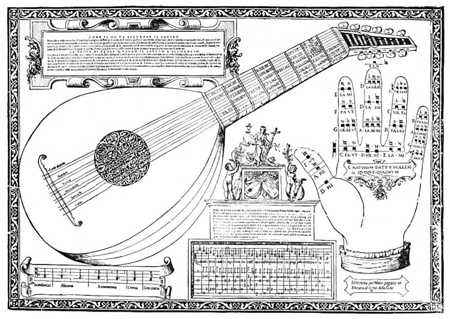 Listen to a MIDI transcription of the music
---

William Byrd obtained with Thomas Tallis, January 1575, a patent from Queen Elizabeth for "importation of music from foreign sources," and printing and selling music and music paper for twenty-one years. They imported a fount of type from Johann Petreius of nuemberg and employed Thomas Vautrollier, Blackfriars, london, to print for them Cantiones, quae ab argumento sacrae vocantur.....1575. The type then remained unused until after the death of Vautrollier in 1587, when it passed into the possession of Thomas East (Este), some of whose imprints describe him as the assigne of William Byrd. East went on to become Renaissance England's most productive music printer. Tallis died in November 1585, after which Byrd held the patent alone until its expiration.
Though Amaryllis Dance in Green
---
Teilman Susato, c. 1515-67, began his recorded career as a performer in the civic ensemble of Antwerp in 1530. Evidently of German origin, he chose to spend his most productive years in Antwerp, which in the first half of the sixteenth century was the dominant commercial center in northern Europe. This restless, highly gifted musician was not content with a one-dimentional career. Susato went on to establish himself as a dealer in musical instruments, as an editor, and as a composer. His skills in music and business, as well as his drive and ambition, are perhaps most visible to us now in his activities as a printer of music, for he founded one of the most productive and highly respected publishing houses of music of the 16th century. In 1551 Antwerp printer Tielman Susato began publication of his Musyck boexken, a series devoted to Dutch-texted polyphonic music. This was the most serious attempt by a sixteenth-century publisher to popularize the genre.
Basse danse
Den hoboecken danse
Allemande
Pavan
Dont Vient Cela
---
Ottaviano Petrucci was one of the first printers to publish music using the Gutenberg printing process. Many historians believe that his first book, Harmonice Musices Odhecaton (Venice, 1501), is the first music collection printed using the Gutenberg printing system.
James James James
Ala Audienche
Danse
---



The following arrangement is of a piece entitiled "Et donc bonsoir" published by Antonio Gardano a prominent Venetian music printer who printed numerous books.
---
The following MIDI transcription and graphic are from the 16th Century publication of Renaissance alchemist Michael Maier's "Atalanta Fugiens" which was an early example of multi-media. Atalanta Fugiens contained 50 sections, each made up of a emblem graphic, a written exposition and a musical compostion, which create a symbolic alchemical publication based on the Greek myth of Atalanta.

MIDI file of the second piece in Atalanta Fugiens
---
Tobias Hume was an English violist and composer who was born around 1569 and he died the 16th of April 1645. He was said to have been an army officer, a captain, and an excellent performer on the viola da gamba.

Hume published a few unique books of music, all made up of his own works, rather than arrangments or compositions of other musicians and composers. The following arrangements are from Hume's publications.
Musicke's Delight
The Passion Of Musicke
The Spirit of Musicke
Deep Thoughts Revived
A Jigge For Ladies
Tobacco
Touch Me Sweetly

---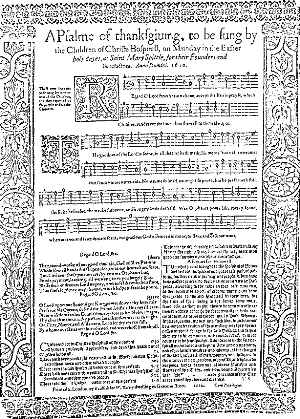 A broadside published in Renaissance England, complete with music and lyrics.
Explore the Amaranth Publishing pages....................

Explore - the world's most mysterious book, music composed by a Renaissance alchemist, the Amaranth Publishing CD collection, the oldest song in the world, the world's oldest love song, the music of the Illuminati, unique sheet music, the world's most haunting melodies, the music of the spheres, a way you can become rich if you can solve a historic cipher, a way you can compose music just like Mozart, the
19th Century American X-Files and much more....
© Copyright 2003 - Amaranth Publishing - All Rights Reserved